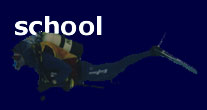 ---------------------------------------------------------

| | | |
| --- | --- | --- |
| In MAR-IVYSUB ENSEÑANZAS DE BUCEO you will find everything you need to discover the fantastic underwater world in an enjoyable and safe way. This safety is backed up by more than 20 years experience and hundreds of new divers graduated with no accidents. Safety is our priority. | | |
| | | |
| | | The new technological advances, the modern equipments and designs, the technical support of the new videos and hanbooks and our full-time instructors have turned the sport and recreational diving in an exciting, easy, enjoyable and safe activity, accesible to every healthy person of all ages. |
| | | |
| --- | --- | --- |
| | C O U R S E S | |
One star diver
B
Requirements
Powers
14 years
Parental permission (under 18)
Medical certificate
Progress certificate of a previous course
No final examination

Note: 12 years B
One Star diver JUNIOR


Use of a diving equipment with compressed air.
Immersions up to 20 metres with an instructor.
Access to different specialities
Two stars diver
B
Requirements
Powers
Parental permission (under 18)
Medical certificate
To have passed the B course
15 immersions logged up in the diving notebook
Progress certificate of a previous course
No final examination
The same as the one star diver.
Immersions up to 30 metres with an instructor
Access to different specialities
Three stars diver
B
Requirements
Powers
Parental permission (under 18)
Medical certificate
To have passed the B course
40 immersions logged up in the diving notebook
Progress certificate of a previous course
No final examination
The same as the two star diver.
Immersions up to 40 metres with an instructor
Having the deep-sea speciality and with highly experienced divers and instructors, you can have immersions up to 60 metres.
Access to all specialities.
. Levels of Instruction

Our courses will tutor you to the official examinations, diplomas and certificates in the best conditions.

During these courses every new diver will have an individual top quality equipment (including life jacket and instruments console)

In these courses (all levels) you will get both national and international CMAS (Worldwide Confederation of Underwater Activities) certificates.

Head teacher instructor:
Marivy Rasso
Courses: all the year
·Cursos DAN


·International First Aid, Oxygenation and Denitrogenizer Diplomas
·Updating and refreshment courses for those who have not dived for a long time.
·Individual courses with timetables to determine
·Flexible timetables
·Use of a modern and complete equipment for each pupil
(Diving clothing included)
·Swimming pool (special for diving courses). 5 metres depth
Courses of different specialities
·Night diving
Wreck diver
·High Mountains diving
·Diving in Caves
·Underwater Photography divers
·Underwater Video divers
·Submarine Biology Introductory Course
·Submarine Archaeology Introductory Course
·S.V.B. and R.C.P.
·High Mountains diving (lakes, reservoirs)
·Diving Rescue
·Diving Nitrox
·Deep-sea diving
·Diving Current
·Under Ice diving (trips to frozen lakes)
·Methods of underwater Search
·Bearings with Compass
·Equipments Maintenance
·DAN oxygen supplier
·Dry Suit Diver
·Rescue and Lifesaving special courses for Divers, with use of the Desnitrogenizer Equipment
·Nautical Courses
·Apnea Courses
·Individual Courses with flexible timetables

Baptisms, Trips, Discover Diving
For everybody, all ages !!

For those who have interest in breathig under the water and feeling the weightlessness, there is nothing better than a submarine baptism in the swimming pool, in the sea or in both of them, with the help of our instructors.

Come on! It is very easy, safe and cheap.
You will have your own equipment.
You will also get your certificate.
SPECIAL BAPTISMS FOR CHILDREN – ALL AGES WITH CHILDREN CERTIFICATE
CHILDREN ARE OUR SPECIALITY !!!